What is credit insurance?
Trade credit insurance protects businesses from bad debts and the risk of customers not paying within the UAE, Middle East, or other foreign markets.
If you provide goods or services on credit and your customers are companies, credit insurance is a valuable tool for managing your debtors. With credit insurance, your company is protected against non-payment, ensuring that your invoices are covered and you receive payment even if your customer is unable to pay.
Our partnership with Atradius

Orient Insurance PJSC partners with Atradius to offer credit insurance solutions for companies of all sizes, whether they operate solely in the UAE or internationally. Reinsured and supported by Atradius, Orient Insurance PJSC aims to provide best-in-class account management, claims and collection support to its clients in the UAE.
Want to know more about credit insurance?
Click below for a short video that gives an overview of how credit insurance works.
Top 10 Reasons Why You Should Consider taking out a Credit Insurance Policy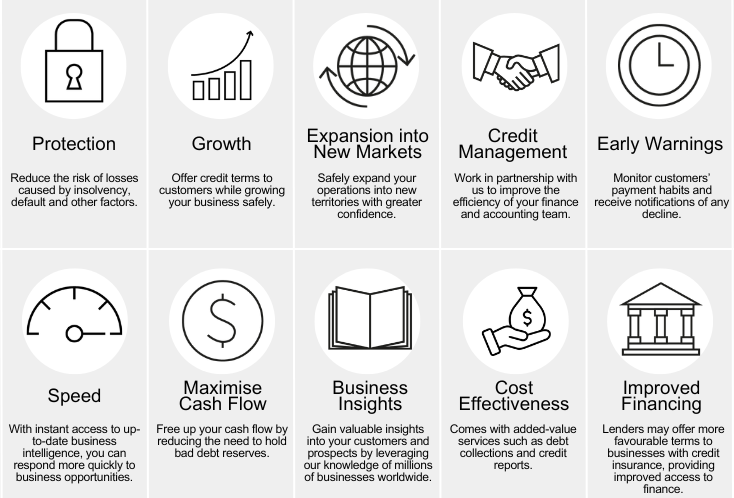 Frequently Asked Questions
What are the reasons for insuring our company against credit risk?
Credit insurance offers peace of mind to businesses, as it provides protection against bad-debt loss that can have a significant impact on a company's financial health. On average, trade debts make up 40% of a company's assets and sometimes the figure is even higher. It is challenging to predict which client may default on payment and nearly 50% of payment defaults come from stable and long term trade relationships.  The cost of non-payment can be considerable, making it essential for businesses to have a strategy in place to manage bad-debt losses.
For example, if a company has a profit margin of 5% and a customer defaults on a $100,000 debt, the company would need to generate an additional $2,000,000 in sales to recover the lost profits. However, the impact of non-payment goes beyond just lost profits. It can weaken a company's financial position and reduces its investment capacity by affecting cash flow.
What if our business has a well-balanced portfolio and we do not currently anticipate any risk?
Getting credit insurance after a credit risk has already materialised is too late. Even if your business has a well-balanced portfolio, an unexpected claim or catastrophic loss can still occur. Unforeseen events, such as fraud committed by a manager that leads to insolvency or a secondary insolvency that impacts a major buyer of your client, can have a significant impact on your client's business. It is impossible to be entirely certain that you have all the information needed to predict and prevent credit risks.
What advantages can credit insurance offer if my company has not experienced any bad debt losses in the past?
Credit insurance provides more than just protection against bad-debt. Insuring your receivables can offer several benefits, such as:
Expand sales safely
Improve access to financing
Decrease bad-debt reserves
Achieve financial objectives with confidence
Minimise the need of letters of credit from your customers
While having a clean loss history may suggest a lower likelihood of future losses, it does not guarantee that losses will not occur in the future. However, a clean loss history may result in a more favourable premium rate we would offer.
What percentage of indemnity or guaranteed coverage do you offer?
Typically, we offer indemnity or guaranteed coverage ranging from 75% to 90% in the event of a claim.  
In what ways can credit insurance help business safely expand their sales growth?
With credit insurance, businesses can safely expand their sales growth in several ways. For instance, can help companies sell more goods on credit terms while significantly reducing the overall risk of non-payment. It can also enable businesses to take advantage of peak and cyclical selling periods and safely expand into new product lines and territories.
In what ways can credit insurance assist in obtaining better bank financing?
As receivables represent one of the largest assets of a business, most banks recognise the value of credit insurance as an effective tool for mitigating the risk of non-payment. This enables banks to structure trade finance facilities for businesses, viewing the insurance policy as collateral. The bank can be listed as a Loss Payee / Assignee by issuing a policy endorsement to assign the proceeds of benefits of a claim. In some cases, the bank may even opt to purchase the receivables and become a joint insured under the policy.
This can help reduce your cost of borrowing and enable businesses to negotiate better financing terms with their bank.
Speak with our experts today
Roula Raya , Regional Sales Manager
Phone: +971 4 703 5020 / +971 50 281 9362
Sagar Soman, Business Development Officer
Phone: +971 4 703 5010 / +971 55 672 7273