A range of innovative products are being developed to safeguard Expo 2020 Dubai's site and operations, participants' pavilions and even drones, thanks to a new partnership with Orient Insurance.
As the Official Insurance Provider for Expo 2020's site and operations, Orient Insurance will create insurance solutions that meet the event's unique requirements. The two organisations will also use the partnership to develop products for emerging technologies such as driverless and flying vehicles, in line with Expo's commitment to embrace innovation.
Owned by Dubai-based family conglomerate Al-Futtaim Group, Orient Insurance will offer services through a digital platform to more than 200 Expo 2020 participants, including businesses, multilateral organisations, non-government organisations, educational institutions and more than 180 nations.
The agreement was signed by Najeeb Al-Ali, Executive Director, Dubai Expo 2020 Bureau and Omer Elamin, President, Orient Group, at the Expo 2020 site offices.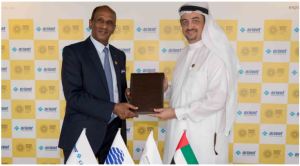 The innovative insurance products developed for the next World Expo also have the potential to boost efficiency, improve pricing, reduce bureaucracy and combat fraud for consumers across the UAE and beyond.
Her Excellency Reem Al Hashimy, UAE Minister of State for International Cooperation and Director General, Dubai Expo 2020 Bureau, said: "We aim to deliver one of the most innovative World Expos in history, which is why we are delighted to join forces with Orient Insurance. We look forward to working closely together to develop solutions that offer peace of mind to all Expo 2020 participants, enabling them to focus on what really matters: 'Connecting Minds, Creating the Future'."
Omar Al Futtaim, Vice Chairman and CEO, Al-Futtaim Group, said: "Our team is proud to join forces with Expo 2020 Dubai to develop insurtech products for the next World Expo, which will also benefit consumers in the UAE and the wider region long after 2020.
"Providing insurance for a global destination on the scale of a World Expo is a major undertaking, but we are confident we have the skills and experience to deliver an exceptional service. Al-Futtaim Group has been part of the fabric of the local business community for nearly a century and, through this partnership, we have an opportunity to make a significant contribution to the nation's long-term development."
Orient Insurance will provide property insurance for the Expo site's iconic architecture, plus liability coverage to safeguard participants' investments as the UAE prepares to welcome the world in 2020.
Established in 1982, Orient Insurance has cemented its position as one of the leading insurers in the UAE, receiving an 'A' rating from both S&P and AM Best for long-term counterparty credit and insurer financial strength, and enjoys a positive outlook from AM Best. The company also operates in Bahrain, Egypt, Oman, Sri Lanka, Syria and Turkey.
Expo 2020 Dubai expects to attract 25 million visits between October 2020 and April 2021, and 70 per cent of its visitors are projected to come from outside the UAE – the largest proportion of international visitors in the 167-year history of World Expos. More than 180 countries are expected to participate, and each one will have its own pavilion – another World Expo first.
Commercial partners are playing a vital role in delivering the next World Expo. In addition to Orient Insurance, Expo 2020 Dubai has tied up with Premier Partners: Accenture, Cisco, DP World, Emirates Airline, Emirates NBD, Etisalat, Mastercard, Nissan, PepsiCo, SAP and Siemens; Official Partners DEWA, Emirates Hospitality Group, ENOC and UPS; and Official Provider DarkMatter.
Expo 2020 Dubai expects to make further partner announcements in the coming months.